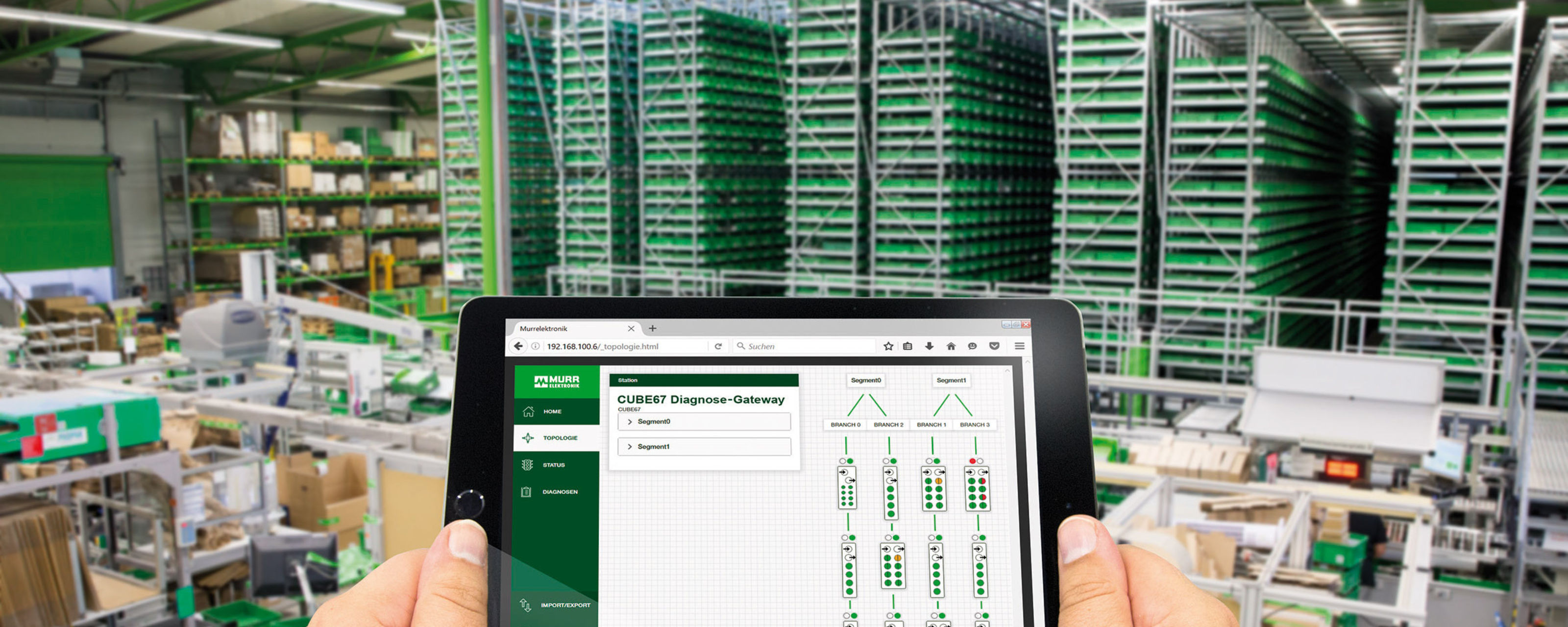 Cube67 Diagnostic Gateway
Diagnostics Made Easy
Benefits for engineers, the maintenance team and machine operators
Murrelektronik's Cube fieldbus system offers extensive diagnostic options. Our Diagnostic Gateway allows "Plug & Play" access to data via an Ethernet interface. This solution is easy to implement and provides clear instructions in case of failure while allowing for maximum machine availability.
Controls engineers can use the Diagnostic Gateway to examine the Cube system topology and detect installation errors at an early stage.
Service personnel are able to quickly identify errors by temporarily integrating the Diagnostic Gateway. This is a good solution for machine acceptance tests. Permanent integration helps guide field technicians via remote access.
The machine operator who permanently incorporates the Diagnostic Gateway is able to react to potential problems early. In a best-case scenario, troubleshooting instructions allow the technician to bring the right part with him when he comes to make repairs.

The Cube67 Diagnostic Gateway speaks your language!
Diagnostics and topology detection without additional programming
Easy gateway installation between the Cube bus node and up to four branches of a Cube installation
Works with all Cube bus nodes (backward compatible to older modules)
Browser- and platform-independent representation of the Cube topology, process data and diagnostic information
Diagnostic memory (logbook) in case of "intermittent errors"
Plain text module designations and error messages
Fieldbus and control system independent
Data provision via a standard OPC UA interface as a basis for transition to Industry 4.0
High first call resolution rate through remote maintenance
With Cube, machine owners know what is happening on their machine's IO level anytime, anywhere. This allows them to be proactive when errors or bottlenecks become a potential risk (predictive maintenance). Wide ranging process and diagnostic data is either passed to the PLC to the Cube67 Diagnostic Gateway. This enables a high first call resolution rate via remote access.
The Cube67 Diagnostic Gateway Web Server
The user is given a Cube system overview including the Diagnostic Gateway at a glance including connection data, voltage levels and current consumption.

The system topology is clearly representated in both tabular and graphic form, showing all process and diagnostic data in a live state.

Detailed diagnostic and system messages are given in plain text including a description of the effects and information on how to resolve the error.

Explore more fieldbus solutions using the Cube system...